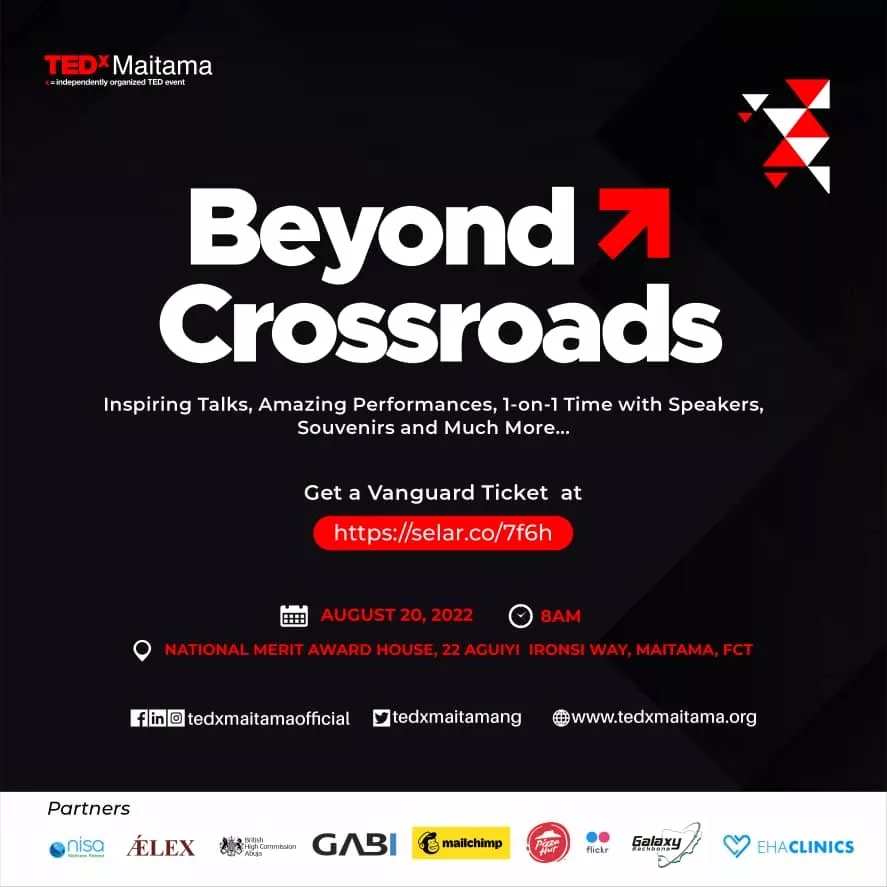 TEDx is that stage where ideas gain the power of immortality, a cauldron of innovation where a cocktail of amazing stories and sterling ideas are served and delivered by a great lineup of thought leaders.
This is why when we are faced with a global dilemma, or get stuck at a crossroads not knowing what to choose or where to go. The best way out that promises to lead somewhere exciting, is to gather bright minds on a TEDx stage, and let the myth unroll itself.
This year at TEDx Maitama, the spotlight is on YOU. We are aware of the myriad of decisions you have to make daily, we know how hard it can get discerning between what's real and illusional, what path leads where, and which option to choose from when none is even visible.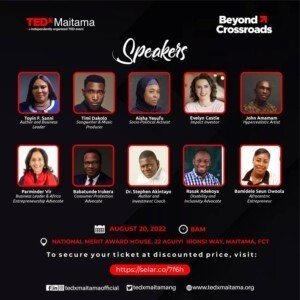 We see how the pandemic added multiple intertwined layers to the already confusing puzzle of life, and how hard the battle is for you. We are here to help you unravel the mystery, to give you an insight into what drives our values as humans, and what truly moves us towards our goals.
Is it societal pressure or fear, or something even deeper? The answer awaits you on stage.
What if we tell you, even with the odds high, you can still move on from all that is holding you back? You can still get your power back and break through the confusion and roadblocks to stun the world with your innate gift.
Sound interesting right?
As you prepare to grab your seat, let's tell you what's even more astonishing.
We have a stellar lineup of bright minds in various fields from different walks of life. We are bringing together a rare gathering of creatives and thought leaders to give you an amazing experience, one you would live to adore and remember.
From your popular human rights activist Aisha Yesufu, to songwriter and music producer Timi Dakolo and Toyin F. Sanni ( founder and C.E.O, Emerging Africa group), Parmider Vir ( Entrepreneur & Media expert. Former C.E.O Tony Elumelu Foundation), John Amanam (Hyper realistic Artist), Rasak Adekoya (Disability and inclusivity advocate), Bamidele Seun Owoola (Afrocentric Entrepreneur) and Babatunde Irukera (C.E.O FCPC).
You would meet all these influential persons live on the 20th of August and get to listen to them let out their inspiring and unfiltered ideas on how to excel beyond the crossroads.
The event is just a few days away and the means you have just a few slots left.
Click this link now to save your seat before someone else take it away.
TEDx Maitama promises to be exciting and liberating. That's why it's not surprising that we already have a hall full of leaders and activists who can't wait to meet and connect with like minds like you.
It's going to be EPIC
Here's the link to book your seat again