Mr Damilola Johnson, founder of Dreamz Network, an NGO that is dedicated to helping children of school age in Nigeria and the founder of Dreamz Events, an event planning for-profit making. He is a generous and passionate individual who translates his potential into helping young children at school age while managing a business and holding on to a day job.
In his interview with GABI Magazine, Mr Damilola took us through the journey of how he changed his story from the young teenager growing up in the rough area of Shomolu, Lagos state to the man changing people's lives with other aspects of his own life.
One of his favourite quotes is "a man who is poor is not a man without money but a man without a dream". In his interview, we learn how important he has found tangible relationships to be in the growth and progress lane of his life.
Who is Dreamz Network?
My name is OluwadamilolaJohnson, I graduated from the University of Lagos with a bachelor's degree in Economics Education. I'm a Christian and a lover of kids. I run an NGO called Dreamz Network, I'm also an event planner combine with the fact that I work at Multichoice Nigeria as a customer service representative.
How did you come about Dreamz Network?
Dreamz network was founded on the 7th of July 2007 and I could recall that I just completed secondary school with the desire to do something that will benefit my community. Back then, I resided at Shomolu where we have a common mentality of how razz and rough it is to live in such an area. On a faithful day, I had a word with my role model whose name is Godwin Okhawere(aka Jesus Parrot). I told him I needed a name that will accompany my big dreams, then he suggested to me the name Dreamz Network.
What feet has Dreamz Network achieved since it was established?
I couldn't do anything with the name in 2007. However, I was able to organize a quiz competition for schools the following year. What prompted the desire to organize this competition for schools, most especially primary schools, was my observation that the young ones from age 5 to 9 were not always conscious of the news going on around their environment. Supposing we ask a child to sing a trending song, he or she will do that swiftly with no errors. However, when you ask the child about current affairs will keep mute. I've been organizing competitions for both private and public schools from 2008 till date, and the competitions are always recognized and supervised by the Lagos State Exams and Record Board.
I have also been privileged to sponsor two young kids for a two-week event called My Hero – My Nigeria, where they both perform very well. I've been organizing quiz competitions for churches, likewise, help several teenagers with their JAMB fees since 2017. I have done several outreaches since 2018, school bags were donated to many children within Shomolu and Ikorodu axis. The outreach was inspired by a little boy's cry, who I met on his way to school. His school bag was faulty and had to use a polythene bag because his mother could not afford one. I posted the little boy's story on my social media pages, which consequently got a lot of support and prompted me to help more children.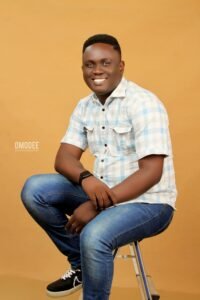 Do you bear the financial burden alone or do you seek external support in carrying out these NGO programs?
To stretch helping hands to people is not for the rich, rather it is within everyone's reach to do in their little way. There are times plan outreach and few weeks to the outreach I will have no penny. However, back then I had what keeps me going. One of which is the word of one of my mentors- KunleAdewusi. He once told me that "when planning, don't think about the money, just draw out a concrete plan. If your plans are good enough, money will come".
For the outreach, I do get support from corporate companies and private businesses such as the Lagos State Government, GlaxoSmithKline(GSK), Nestle, Foursquare Gospel Church, Shomolu District Headquarters, Tytler Catering Services, Multichoice Nigeria, Digitouch, LASEK media and others. Optimisticallywith these supports, we plan to scale up and do even bigger outreaches in the future. We only need the resources to increase the number of JAMB students sponsored per year and also increase the outreach scale beyond what we have now.
What birth Dreamz Events?
Dreamz Event was founded in 2019. I wasn't the kind of person to sit around and wait to be given instructions before getting things done. It got to a time when I feel I needed another source of income to support the NGO. Then, I discussed with one of the people I regarded as a fatherly figure- Mr Fashoranti, seeking his advice about taking a loan to start the event business. After a session with him, I came up with the idea to make use of my planning skills to establish a planning event. Much capital wasn't needed for the event planning business as I found a way to earn a decent commission that I could use to expand. I could remember the first event that I planned. It was my big brother's wedding-KunleOdebiyi, who has invested in me one way or the other.
How do you measure the success of any event you plan?
I used clients' feedback and ratings by intentionally asking them to rate my services and also give feedback on what I can do to improve my services. I prefer to get corrective advice than praise from my clients.
How do you handle toxic clients?
Sometimes, my clients get stress out as a result of the proceedings of the event which might put them in a bad mood. At this moment, I avoid being trapped in the anger box with them, because I have learned to master calmness when an event unfolds. One of my techniques is to listen and pay attention to them, after which a solution is proffered. Sometimes, clients would want me to do something that doesn't work with my idea. Then, I will explain to them in detail the expected result of such action. I will only go ahead if they understood the results and choose to go ahead with such decisions.
I am yet to get a job that I had to reject for any reason. However, if need be that I will reject any job, then it will be on the offer that is very low than what I would accept.
What are the traits and qualities required to be a successful events planner and does it require a level of expertise?
Not just anyone can be an event planner. A lot of it depends on determination, focus and what you want. A lot of people go into businesses because they have seen their friends succeed in one. It all ends in a fiasco later on when the challenges come. If one has the flair for a business, you can go into it. However, you can't jump into a business because you saw others doing it, otherwise, you'll lose focus.
You run an NGO, an event planning firm and also work with a company. How do you juggle around all of these?
God has always been a source of strength to me. However, the Dreamz Network and Dreamz Event are not everyday jobs. Event planning business is usually seasonal and the NGO work is usually an annual or bi-annual kind of work. Although, I work out different plans during my free time.
How do you manage your finances between Dreamz Event and Dreamz Network?
I am the kind of person who sees no point in getting richer when my neighbour is sick or hungry and I can't help out. I have learnt how to balance my finances such that, regardless of the responsibilities I have, I can still show up and help those around me. You know it's not about the longevity of one's life but the impact on the people around you. So the question is what impact do you have on people, is it negative or positive? For me, I want to have a positive impact.
How important is mentoring, networking and keeping healthy relationships is to you?
I couldn't have done it on my own, I believe we all need each other in this world. God will surely bring good people your way, but managing the relationships you have with them is your decision to make. You can't allow pride to tamper with your relationships with people. You need people to talk to and communicate with meaningfully and also impact those coming behind you. Apart from God, you need people who can guide you through some issues in your business and life.
Assuming you are given only one opportunity to select between Dreamz Event and Dreamz Network. What will be your take?
I will choose the NGO- Dreamz Network because touching lives and making people happy is very paramount to me.
What advice do you have for anyone aspiring for the same dream as yours?
One, don't let your environment be the determinant to your success. I wasn't born in Shomolu but I spent 2 decades in the community, yet I stood firm not to allow the environment to affect my life negatively.
Two, the kind of friends you keep will determine what you are.
Finally, don't forget the God factor. Men may disappoint but God will never.