Today, dawn feels brighter and comfy as the starry curtains of the night sky, pave the way for light and good tidings. GABI is here with good news, to silence the cynics and light up the face of the optimists with hope. The 2022 Studentpreneur's Award is a testament to the changed narrative, highlighting a crystal clear fact that Nigerian youths no longer wallow in indolence, but are picking up the baton of change and are ready to make the run for a future, great and promising.
GABI like her name implies (Gaining Ascendency by Inspiration), inspired by the vigor and the relentless spirits embodied by these young minds, decided to play the role of a mother, nudging them towards entrepreneurial success. GABI is a global media firm with a mandate of helping entrepreneurs and careerists across diverse cultures and backgrounds grow successful businesses and thrive in their respective spheres of influence.
It's this drive and mission that led to the birth of the Studentpreneur's Award, set to celebrate student entrepreneurs and innovators across the country and subsequently across the globe. We believe with the right exposure and a platform to stand on, these bright minds will reach their goals faster and contribute immensely to national development. The journey for the 2022 Studentpreneur's Award began last year in November. Hundreds of entries were received from an evenly represented community of students across the country, who are driving change and impact through entrepreneurial leadership.
Selecting the top 50 was a tough job for our experienced panelists. Determining
who makes the top 3 shortlist was an even harder job. But in the end, this is not a race with winners and losers. Everyone who participated in the award is deserving of a medal. Everyone is a change maker and we are dedicated to ensuring that everyone is GABI
(Gaining Ascendancy By Inspiration).
Meet our top three student entrepreneurs with outstanding business ideas, credible tractions and a high growth potential.
Giwa Aishat Adedolapo
Meet Giwa Aishat, the C.E.O Diamond Dee Cakes, is currently a 400-level student of Biochemistry from the Federal University of Technology, Akure. Diamond Dee cakes is specialized in making delicious cakes, sumptuous pastries, and mouth-watering small chops for all occasions. Interestingly, Giwa started her business in May 2021 with 5000 naira. Today She has generated over 400,000 naira in revenue and has delivered over 500 cakes with lovely reviews from customers. She has also tutored and helped other young people set up their businesses in cakes and pastries. Giwa's story is that of grit determination and a zeal to make a meaningful impact in the lives of others.
Check out Diamond Dee Cakes Click here
Samuel Johnson Olalekan
Meet Samuel Johnson Olamilekan a 400-level student in Applied Physics Electronics at the University of Lagos. He's the C.E.O of Waltersam Services, an Edutech company with a vision to help students achieve academic success. Their range of products and services include tutorial classes, book packages, hoodies, and other academic souvenirs. Waltersam Services set the record by organizing the first online mock examination at the University of Lagos. Samuel sees himself making it to the Forbes 30 under 30 list as one of the most influential entrepreneurs in Africa.
Here's Waltersam Services official page. Click here.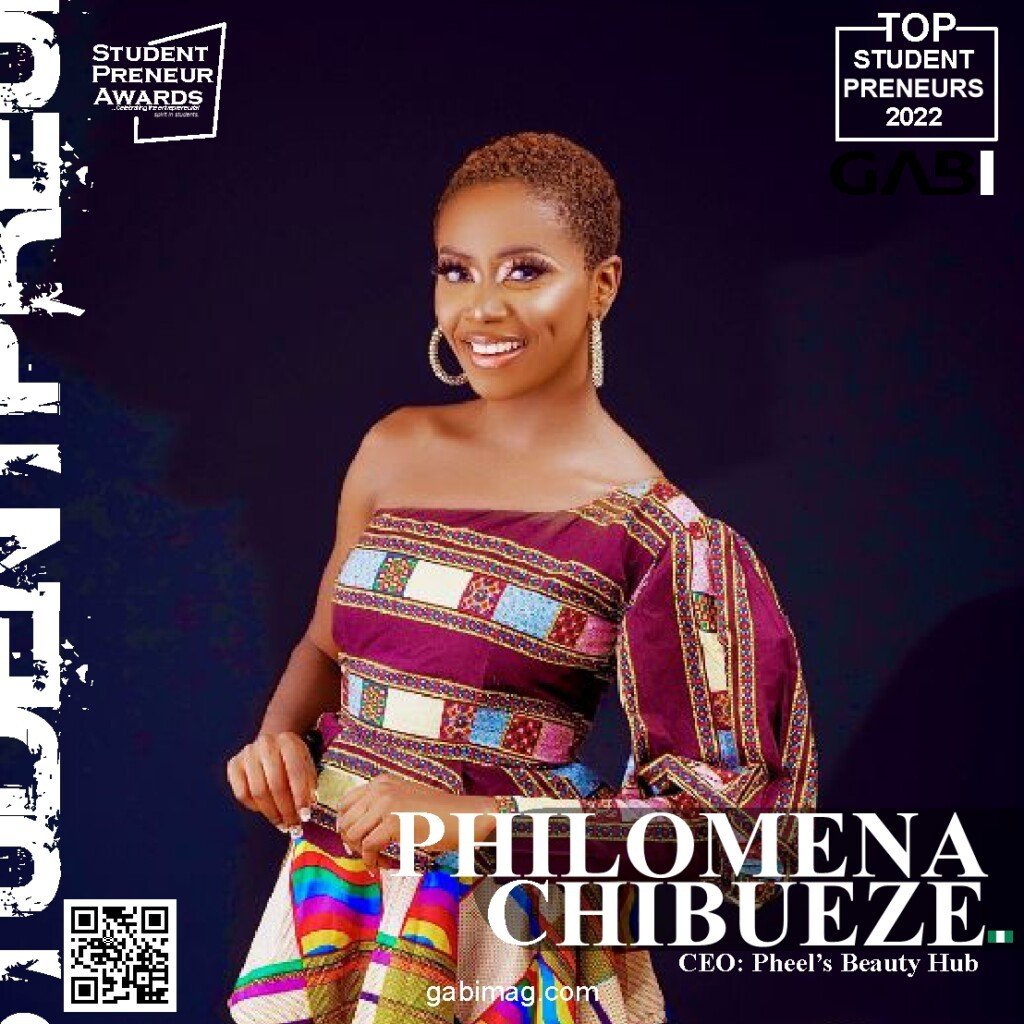 Philomena Nkechinyerem Chibueze
Meet Philomena Nkechinyerem Chibueze a 400-level student at Federal University Lokoja. She's the C.E.O Pheels Beauty hub, a company specialized in beauty and skincare products and services. Her goal is to help women bring out the beauty in themselves and fully express their potential. Philomena sees herself becoming a well-known makeup artist and cosmologist.
Check out Pheels Beauty Hub Click here
For these top three GABI Studentpreneurs who have been selected, the face of business modalities is about to alter. See how these young, courageous minds are making greatness out of nothing and making it where it counts the most as Gabi reveals their extraordinary and inspiring stories. Keep an eye out as they start to Gain Ascendancy By Inspiration.