When you find that thing that makes your heart tingle, when you let loose your inner child, and reach deep within to embrace your uniqueness, that is when you begin to live a life of meaning. Meet Pelumi Olawuni, popularly known as AbikeShugaa a lady with an amazing mien, a TV personality and actress per excellence.
Pelumi is a passionate entertainer who loves making people happy with her funny and inspiring social media content. She is also using her influence to advocate for the girl child, inspiring other women to be their best selves. In her interview with Gabi Media, Pelumi Olawuni walked us through the journey of how she found herself in the entertainment industry
WHO IS PELUMI OLAWUNI?
Pelumi Olawuni is just a girl, a very hard-working girl with the zeal to make a difference, also very playful but determined as well. I was born and bred in Lagos, though my hometown is in Osun. I had my primary schooling at Kingdom of Blessing schools and my secondary school was a mixture of both a random school and a Muslim school.
TELL US ABOUT YOUR JOURNEY INTO THE ENTERTAINMENT INDUSTRY.
It wasn't an intentional one, I just found myself in it. Right from a young age, I've always been very zealous, like an over-zealous child that just wanted to do everything she could lay her hands-on, and I was always trying my hands on different things. I've been working since I was age 12 and at age 15, I started doing ushering jobs, coming from school every weekend to do ushering jobs in Lagos.
I'm sorry, I forgot to add the fact that I actually have a National Diploma certification. So after my ND, I decided to look for a job which is a just normal thing to do, right? So, I told all my friends that I needed a job and I finally got one but getting to the interview right, the boss said, 'you look so pretty and you look very funny, will you like to be a Presenter?' And, I was like Yes, I love them but I don't think I'm capable of doing what they do because at that time I felt it was too professional for me to just barge into it.  I was like I don't think I can and the next thing was that they asked me if I had an Instagram account just for them to see my profile, my videos and everything. 
Eventually a video of me advertising a product popped.  That was my friend's brand and they said, I spoke so well and was really funny and I could become a presenter on their TV platform coming on. They saw a potential I did not see in myself and that was how I got the job.  However, my first shoot was over 6 hours and it was just supposed to be a one-minute thing. I had my rough stage fright. I was scared, nervous but I ended up doing it. Right now I found myself in it and I loved it. I also found the part where I could create content in my own room without having to go to anybody, so it was a mixed thing. As I delve into it day by day, I began to do other things I find interested in.  It wasn't a planned thing for me as I originally wanted to be a lawyer. 
HOW DO YOU MAINTAIN YOUR WORK AND LIFE BALANCE?
 I am a very receptive person and I'm very emotional also but when it's time to work, I work with my whole heart.  When it's time for my personal life and family, I make sure I give it my all because that's where I am coming from before anything. So sometimes I take a break, and there are times I just try to feel like the superwoman that I am, and merge everything together, but at the end of the day if it flops and I just tell myself it's okay, I don't think I'm doing it the right way though. Sometimes, you need to take a break. When work gets me down, I go back to my normal life, sit with my God and my family or tell my parents what is going on. But when it's time to work, it is time to work for me, and when it's time for my personal life, I make sure I give it the due time it deserves.
WHAT HAS BEEN THE MOTIVATING FACTOR FOR YOU IN THE ENTERTAINMENT INDUSTRY?
Everyone is saying life is not about the money. Please, it is the money for me because I need it and that was the reason I went on a search for a job because I wanted to be able to cater for myself. So yeah, the money aspect and the fact that I could multitask, because Abikeshugaa as people know me, is someone that doesn't like doing one thing. I hate doing one thing, like, you can't keep me on a spot, I'll feel like I'm not productive or I'm not making use of the things God gave me. I feel like God didn't give me one thing. 
He gave me thousands of things that I should at least explore. So, I don't like doing one thing, I like doing so many things. One of the great things about being a content creator in the entertainment industry is that you'll find yourself doing lots of things, that makes you feel fulfilled, and also the fact that you'll get appreciated for the things you do, you'll inspire people. I mean, I've seen so many messages like "Abike, you motivate me, you make me happy when I'm sad" those things actually mean a lot to me, they keep me going.
HOW HAVE YOU BEEN ABLE TO GIVE BACK TO THE SOCIETY?
I feel doing the things I love and inspiring others to be their best self, that's enough. I like putting smiles on people's faces, and you know as Christians giving back to the society is like going to the streets and expressing some acts of charity. I do that as well and that's with the help of my mum who thought me those things. We always go to the streets together to help those in need. 
Another thing is the fact that I'm sharing my talent to the world and making sure that I do it diligently, I feel like that's the best way to give back to the society, inspiring others by being your best self. I'm also passionate about making the girl child understand that you don't have to think yourself as inferior or be subordinate to someone else. You can do great things by just being yourself, it might not be as great as you want it at the start, but it's definitely going to develop over time. So by motivating others, I feel like I'm giving back to the society, and also making the girl child understand that she can do anything she lays her hands on and excel at it.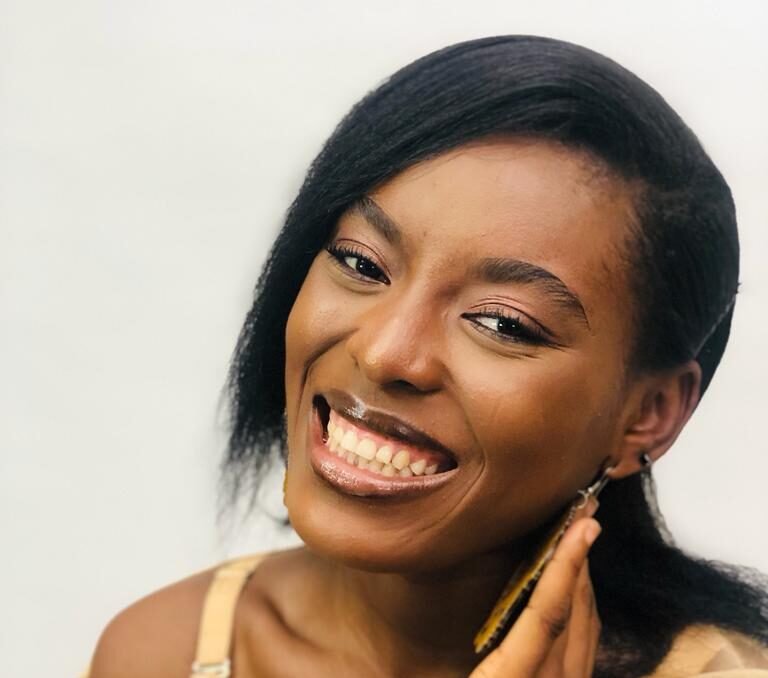 WHAT ARE YOUR WEAKNESSES AND YOUR STRENGTHS IN DEALING WITH SOME OBSTACLES IN YOUR CAREER?
My weakness is the fact that I'm very emotional. Even asides from the job, I am very  emotional, little things get to me, little things, little hate comments here and there, little corrections here and there, these things really get to me. Another weakness is the fact that before now, there are some things that I cannot afford to do for myself. There are some things that I cannot afford to do financially and those things are still my weaknesses because I still have some dreams that I want to put out there to the world but cannot afford to, so those things are my weaknesses and I'm working towards them. 
My strength will be the fact that I don't take no for an answer. I do not.  I can be sad today or I can be down today, but the next minute, I am still doing what I need to do because I feel like if I'm just sited there, nobody is going to help me achieve my plans or dreams. So yeah, those are my strength and my weaknesses. My weaknesses are basically just some financial obstructions and the fact that I'm a very emotional person.
LET'S GET BACK IN TIME. IS THERE ANYTHING THAT HAPPENED IN THE PAST THAT YOU WISH YOU COULD HAVE DONE BETTER?
One thing I wish I could have done better is the fact that while I was growing up,  I looked down on myself so much that I felt like I needed people, maybe a particular person in my life to be who I wanted to be. Like, I needed somebody I will have to depend on for a very long period. If I had just focused that energy on myself, I feel like I would have become a better person compared to now, I'm still a better person but I would have become even better. Do you understand? I feel like I was too dependent, I wish I was an independent child that would just go out there and get what she wanted, but I know that I was very dependent when I was younger and also the fact that I didn't see things clearly, I was boxed, I wish I saw things clearly when I was younger. I wish I wasn't dependent and I wish I saw things clearly, I feel like I would have made use of those opportunities that just walked by and I just overlooked. I lost so many opportunities.
IN THE NEXT FEW YEARS, WHAT ARE WE EXPECTING FROM THE ENTIRE ABIKESHUGAA BRAND?
My expectations, I don't like saying my plans but I'm too excited to say this, so let me just manifest it in good faith. In five years; movies, working with bigger brands, working with Netflix is always in my plans and it's always in my head.  I can't wait to work with Netflix, my movie is coming out soon and that's one of the things you guys should be expecting and also expect more contents from me, innovative contents from me. I think in the next five years, maybe I'll be married. I don't know but I wish. A great career and a loving family are my wishes.
WHAT ADVICE DO YOU HAVE FOR YOUNG MINDS THAT DESIRE TO TREAD THE ENTERTAINMENT PATH, BUT ARE SCARED TO TAKE THE FIRST STEP?
Please, stop being scared. My advice for everyone, both young and old is that nobody can help you become what you want to be, you have to help yourself to become that and before helping yourself become that, you'll have to be fearless, you'll have to be courageous as well, you'll have to close your eyes sometimes and make some tough decisions, not bad decisions but good decisions. 
Sometimes it might be hard, but you'll have to do it. Nobody will help you do what you have to do, you'll have to help yourself first, and then people will see the light and decide to help you. So please, don't be scared, just do it. You don't even know what the result might be, it's not always good but it cannot always be bad, yeah, so that's my advice and make sure you put God first in everything you do.