Every Student's dream is to become great and come out with flying colours, but some are determined to become great and sustain the entrepreneurial routine at a young age. They are willing to go above and beyond to produce outcomes that have never been attained. In their effort to concretize their entrepreneurial existence, they are prepared to test the waters, and they are doing it originally. We refer to them as students who possess an entrepreneurial spirit. They are determined student entrepreneurs. In a recent Award by Gabi Magazine, they made it to the top three slots.  They are worth celebrating because of the feat they have accomplished in their quest for relevance.
 Meet Giwa Adedolapo, our guest of today has amazingly combined being a student and a baker. In his Interview with us today, he will be sharing how he has held up schooling and meeting deadlines for baking and delivering cakes to customers/clients. 
1. Can you walk us through your brand journey?
My name is Giwa Adedolapo, I had a passion for baking right from childhood and that made me venture into the baking business. I took time to learn my skill; I did both online and onsite training. I started my business on the 17th of May, 2021, Since then, I've been able to deliver over 500 cakes. As I journeyed through baking, I got to understand the different aspects of baking and the benefits of having a registered business which helps to build trust with your clients. I had to save up to register my brand under CAC, a year after I started my business. I've been asked severally why I went through this path and my answer still remains passion
2. What inspired the name Diamond Dee-cakes?
Everyone likes diamonds because of their uniqueness, and when I came up with my brand name, I wanted something that would make me stand out. The name diamond came to mind because it gave me the certainty that I would stand out. My brand will always be different because of my uniqueness. The "Dee" is the short form of my name and the cakes symbolize what I do.

3. What was your biggest fear when you started this brand? How did you overcome it? 
My biggest fear when I started was multitasking, and how I would have to combine my business with my academics. Surprisingly, my business didn't affect my academics. I later figured out that it all had to do with timing. Time management helped me a lot to combine my business and academics. As I said, multitasking was my greatest fear, and I had to be deliberate about how much time I spent.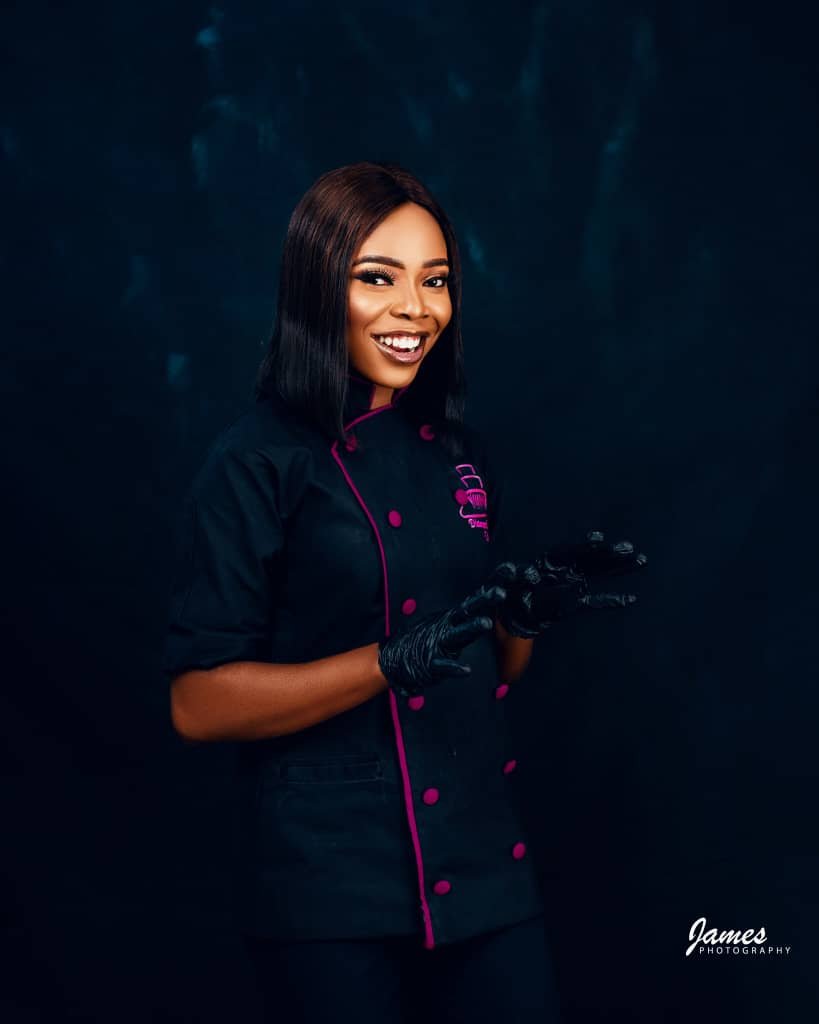 4. With the winning mindset you have, how have you been able to cope in the competitive market space? 
I've always had the belief that no matter how hard it may be, you will always get your own clients, and I will get mine. The sky is our starting point, and it's way too big for competition. I believe there's no room for competition. For me, there is no business without competition, it just makes your business stronger and helps you stay focused on your entrepreneurial journey. The industry I am in is highly competitive, and creativity is something that would make you stand out. So I have learned to be creative in my requests. 
5. Being a student and an entrepreneur, how have you been keeping up with schooling, business, and trends? 
Like I said earlier, being a student and an entrepreneur is all about time management. You need to learn how to manage your time. I multitask both in my business and at school. I manage my time and attend to tasks that I have to attend to at the right time without hindrances, and that is how I can cope. I cannot go to bake when I have a class to attend, I have to manage my time so it won't affect both work and school.  Social media is also a tool I use to follow trends. So that is basically how I have been able to manage school, business, and trends. 
6. If you have to deliver cake to a customer/client and the time for delivery clashes with a class or an exam, how do you navigate a situation like that?
I think I have had a series of times when business clashed with my academics, but my priorities are my education and my business is secondary. I believe in being the best at what you do. For good output, I would concentrate on my education first. I'd rather cancel the delivery and go for the exam. Academics are my set priorities. 
7.  Do you think more students should engage in entrepreneurship, and why?
Yes, it is vital for society, and the development of a growing economy is dependent on the number of students ready to dive into their entrepreneurial journey early. I think the earlier they realize it, the better for them. With the rate of unemployment in the country, there will be a moment when you have to choose between your business and your certificate. Let's assume you have just your school certificate at hand while hunting for a job. You'll be forced to accept the job even if the pay is accommodating or not. It is advisable that students engage themselves in one skill or another. Being an entrepreneur is simply a backup plan.
8. What is your thought on education and business? Do you think education isn't so important?
I think every student should realize that business and education go hand-in-hand. Education is as important as business, and vice versa. The role Education plays in a business cannot be overemphasized because the difference will always speak. For instance, being a biochemical baker, as I often call myself, makes me unique and different.  Just be educated in any field you find yourself in, because your mentality and mindset towards business will change. You will have standard knowledge of how to relate to your clients, both educated and uneducated. Being educated also helps grow your business. 
9. Where do you see your brand in the next 5 years? 
My brand is very important to me, and I see a good and productive future for the brand. One of my brand goals is to see my brand become one of the best in its industry and create unique experiences for all its clients. I want to build a top-notch brand, and we are getting there, no doubt.
10. Share your SPA experience with us.
I never knew I was going to share my experience during this journey; I actually applied through Instagram. I was reluctant about applying, and that made me apply late. When applying for SPA 2022, my thoughts were.  Maybe I could make it to the top 50 recognition list, but then, to my uttermost surprise, I emerged as one of the top 3 winners. It still amazes me to this day. Thank you very much, GABI Magazine, for this great opportunity, I'm so grateful. 
11. What's your advice for students who are scared of starting a business? 
I advise that they conquer their fears. Fear is your first enemy, Whatever business or idea you have, establish it today. Set a goal for your business and learn how to multitask and manage your time. It is very important. Thank you very much.