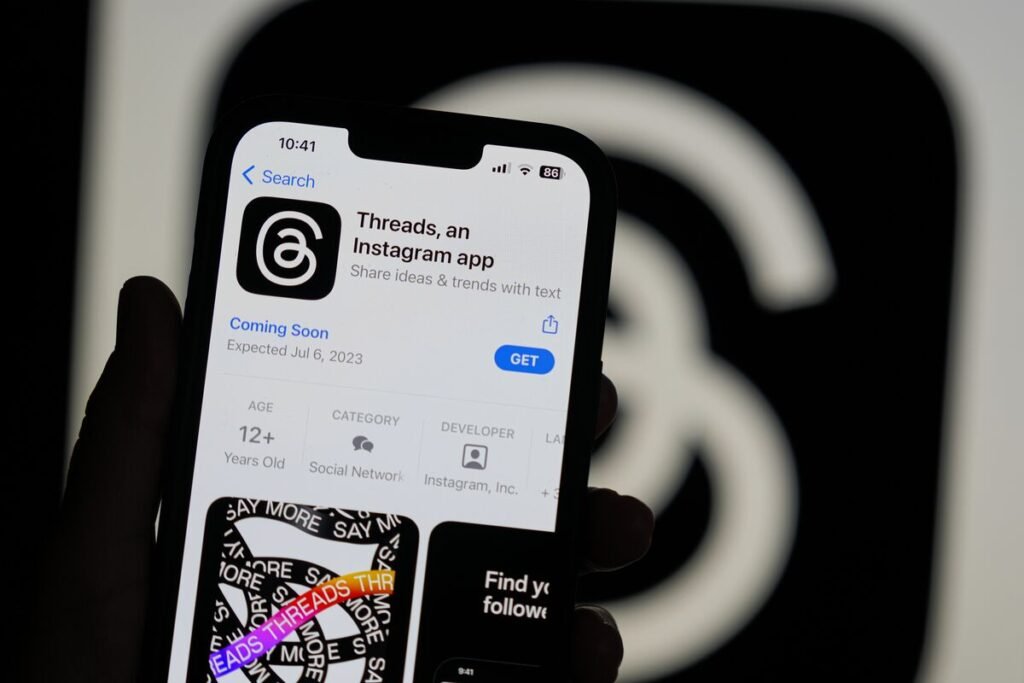 In a world where social media platforms have become an integral part of our daily lives, a new contender has emerged, poised to reshape the way we engage and interact online. Threads, the brainchild of Meta, the technology powerhouse behind Instagram, Facebook and WhatsApp has made another grand entrance into the digital sphere, captivating users and igniting a fresh wave of excitement. Launched on June 5th, 2023, Threads has swiftly gained traction, drawing millions of users from all corners of the globe.
The app became available on Wednesday night to users in more than 100 countries, including the U.S., Britain, Australia, Canada and Japan. Despite some early glitches, 30 million people had signed up before noon on Thursday, Meta CEO Mark Zuckerberg said on Threads. Ever since Elon Musk took over Twitter in October 2022 and has run it with an "On the spur of the moment" approach. Twitter has become particularly vulnerable in recent days, angering users over a temporary limit on how much content users can view each day, and why add the paid monthly subscription that adds a blue checkmark to your account? Could Threads pose a serious threat to Twitter?
What is the Threads App?
Threads is a new App, built by the Instagram team, so Instagram users can log into Threads through their Instagram account. Your username and verification status will carry over, according to the platform, but you will also have options to customize other areas of your profile — including whether or not you want to follow the same people that you do on Instagram. Because Threads and Instagram are so closely linked, it's also important to be cautious of account deletion. According to Threads' supplemental privacy policy, you can deactivate your profile at any time, "but your Threads profile can only be deleted by deleting your Instagram account.
"The vision for Threads is to create an option and friendly public space for conversation," Meta CEO Mark Zuckerberg said in a Threads post following the launch. "We hope to take what Instagram does best and create a new experience around text, ideas, and discussing what's on your mind."
How do you sign up?
Step 1: Open the Threads app and tap the Log in with Instagram button to sign in with your Instagram account.
Step 2: Tap the Import from Instagram button to import your profile info from Instagram. Alternatively, you can enter your bio, link, and profile picture manually by tapping on each icon. When you're done, tap Next.
Step 3: Choose if you want a Public profile or a Private profile. After you choose one, tap Next.
Step 4: You'll see a list of people you follow on Instagram. You can tap the Follow all button to follow all of them on Threads, tap the Follow button next to individual names to only follow the people you want, or tap the Next button in the upper-right corner to skip this step.
Step 5: Tap Join Threads.
Step 6: And that's all there is to it! With those steps completed, you have officially signed up for Instagram Threads and are ready to start using the app
Threads vs Twitter: The Future of Business Conversation
The future of threads is in its users, and Meta, since its inception, has never failed. It is currently available in 100 countries and more than 30 languages via Apple's iOS and Android, according to the company. Many Twitter users have expressed the desire for an alternative since Musk took over the platform late last year. Frequent technical issues and policy changes have sent some noteworthy Twitter users heading for the exits. "It'll take some time, but I think there should be a public conversation app with 1 billion people on it," Zuckerberg said in a Threads post. "Twitter has had the opportunity to do this but hasn't nailed it. Hopefully, we will."
Meta will need to address challenges related to spam, harassment, conspiracy theories, and false claims on Threads to avoid the issues that have led users to become disillusioned with Twitter. The introduction of Threads comes after Meta's significant layoffs, which began in November and affected various departments, including those responsible for user experience, well-being, policy, and risk analytics. Additionally, the launch coincides with the upcoming campaign season for the 2024 US Presidential election, raising concerns about a potential surge in misinformation. Meta has stated that its Community Guidelines will extend to Threads, similar to its other applications. This new App got everyone thinking aloud and wondering, Is this a cult? Why the name? And what does the logo mean? Concerning the future of Twitter, I know it is a valuable platform for entrepreneurs, providing opportunities for networking, brand promotion, customer engagement, market research, and industry insights. Twitter allows entrepreneurs to create a strong brand presence and promote their products or services. It provides a platform to share updates, announcements, and promotional content, reaching a wide audience. It also enables entrepreneurs to connect with industry professionals, potential clients, partners, and influencers. Engaging in conversations, participating in relevant hashtags, and following key individuals can help expand your network and build valuable relationships. And it provides a wealth of information on trending topics, customer preferences, and industry trends. Monitoring industry-related conversations and utilizing Twitter's search functions can help entrepreneurs stay informed and make data-driven decisions.
In the ever-evolving world of technology, it is evident that both people and technology itself continuously strive for more. People, as consumers and users, have an insatiable appetite for innovation, convenience, and improvement. They constantly seek new features, faster performance, and enhanced experiences from the technologies they use. Likewise, technological advancements are driven by the pursuit of pushing boundaries, achieving greater efficiency, and catering to evolving user demands.
However, it is crucial to recognize the importance of setting limits. In today's digital age, social media has become an integral part of many people's lives, Only one person is on WhatsApp, Twitter, Facebook, Instagram, YouTube, TikTok, Snapchat, WeChat, Telegram, Pinterest, Reddit, Tagged, Qeep, Nimbuzz, and the list goes on. While it offers numerous benefits, such as connecting with others, sharing experiences, and accessing information, individuals need to exercise caution and not be carried away by its influence.
In conclusion, individuals should be mindful not to let social media consume their lives entirely. Striking a balance between online and offline interactions, protecting personal information, critically evaluating content, setting boundaries, and nurturing real-life connections are crucial for maintaining a healthy relationship with social media while prioritizing physical socialization and personal well-being.